Multiple Chip ACIS Exposure Map and Exposure-corrected Image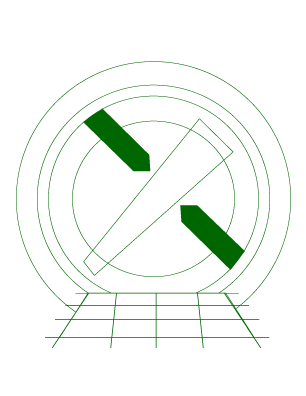 CIAO 4.6 Science Threads
---
Synopsis:
mkexpmap generates an exposure map which may be used to convert a counts image of a source to an image in flux units. The computed exposure map is essentially an image of the effective area at each sky position, accounting for the effects of dither motion which are especially important near the edges of the detector. The fluximage script automates the creation of an exposure-corrected image for a Chandra observation.
Purpose:
To build an exposure map for an entire ACIS chip array, create an exposue-corrected image, and find an approximation for the source flux.
If only one chip is being used, follow the ACIS Exposure Map (Single Chip) and Exposure-corrected Image thread.
Related Links:
Last Update: 26 Nov 2013 - Review for CIAO 4.6; the pbkfile parameter for fluximage has been removed and is deprecated for mkinstmap; an event file, rather than aspect histogram, should be used for the obsfile parameter of mkinstmap.
---
---
---


Parameters for /home/username/cxcds_param/fluximage.par


        infile = repro/           Input events file
       outroot = flux/            Root of output files
        (bands = default)         Energy bands, comma-separated list, min:max:center in keV or ultrasoft, soft, medium, hard, broad, wide, CSC
       (xygrid = )                xygrid for output or filename
      (binsize = INDEF)           Image binning factor
     (asolfile = )                Input aspect solutions
   (badpixfile = )                Input bad pixel file
     (maskfile = )                Input mask file
      (dtffile = )                Input dtf file for HRC observations
        (units = default)         Units for the exposure map
 (expmapthresh = 1.5%)            Remove low-exposure regions? '2%' excludes pixels where exposure is < 2% of the maximum
   (background = default)         Method for background removal (HRC-I)
     (parallel = yes)             Run processes in parallel?
        (nproc = INDEF)           Number of processors to use
       (tmpdir = ${ASCDS_WORK_PATH} -> /tmp) Directory for temporary files
      (cleanup = yes)             Delete intermediary files?
      (clobber = no)              OK to overwrite existing output file?
      (verbose = 1)               Verbosity level
         (mode = ql)              
    
---
| | |
| --- | --- |
| 09 Jan 2012 | reviewed for CIAO 4.4: added the option of using the CIAO analysis menu in ds9 to calculate the source flux |
| 06 Feb 2012 | fluximage updates were released in the 06 Feb 2012 scripts package: setting badpixfile=CALDB uses the bad pixel file from the CALDB rather than the per-observation version. |
| 16 Feb 2012 | fluximage updates were released in the 16 Feb 2012 scripts package: setting badpixfile=NONE uses no bad pixel file when creating the instrument, and hence exposure, maps. |
| 15 Oct 2012 | The fluximage script has been updated in the 15 Oct 2012 scripts package: changes include an updated parameter file; output file names are different; and support for spectrally-weighted exposure maps. The observation used as an example has been changed to ObsId 11823, an observation of the supernova remnant RCW 103. An example of running fluximage to create multiple bands has been added (Figure 1). The step-by-step guide has been updated to better match the fluximage script: e.g. use of a FOV file for filtering the observation; using the same energy value for the exposure map rather than taking the peak of the spectrum; the res_xy parameter of asphist is increased to reduce the time it takes to create exposure maps; the exposure map is now also thresholded; and the exposure-corrected image is created with pixels containing 0 (Figure 4) or NaN (Figure 5) where there is no data. |
| 03 Dec 2012 | Review for CIAO 4.5; removed mkexpmap warnings; |
| 26 Nov 2013 | Review for CIAO 4.6; the pbkfile parameter for fluximage has been removed and is deprecated for mkinstmap; an event file, rather than aspect histogram, should be used for the obsfile parameter of mkinstmap. |
---