Running wavdetect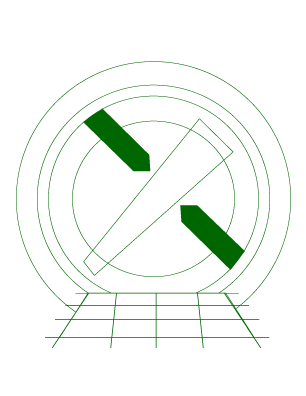 CIAO 4.9 Science Threads
---
Synopsis:
wavdetect operates on the input in two stages. First it detects possible source pixels in a dataset by repeatedly correlating it with "Mexican Hat" wavelet functions with different scale sizes. Pixels with sufficiently large positive correlation values are removed from the image as assumed sources, and subsequent correlations are performed at the same scale. The second stage generates a source list from information from the first stage at each wavelet scale. This tool separates closely spaced point sources and finds extended sources so long as wavelet scales are chosen appropriately.
Purpose:
To illustrate several ways to use the detect tool: wavdetect.
Related Links:
Last Update: 22 Dec 2015 - Added exposure map for XMM dataset and corrected dmhedit command.
---
---
---


Parameters for /home/username/cxcds_param/mkpsfmap.par


        infile = s3_broad_thresh.img      Input image file name
       outfile = s3_psfmap.fits   Output image file name
        energy = 1.4967           Energy of PSF to lookup [keV]
           ecf = 0.393            ECF of PSF to lookup
      (psffile = CALDB)           PSF Calibration file
        (units = arcsec)          Units of output image
      (geompar = geom.par)        Pixlib geometry file
      (clobber = no)              Clobber files?
         (mode = ql)              
    
---


Parameters for /home/username/cxcds_param/wavdetect.par


#
#   parameter file for wavdetect
#
#
#   input
#
        infile = s3_0.5-7.0_bin1.img Input file name
#
#   output
#
       outfile = s3_src.fits      Output source list file name
     scellfile = s3_scell.fits    Output source cell image file name
     imagefile = s3_imgfile.fits  Output reconstructed image file name
   defnbkgfile = s3_nbgd.fits     Output normalized background file name
#
#   scales
#
        scales = 2.0 4.0          wavelet scales (pixels)
#
#   end of wtransform parameters
#
########################################################################
########################################################################
#
#   wrecon parameters
#
#
#   PSF size parameters
#
       psffile = s3_psfmap.fits   Image of the size of the PSF
      (regfile = s3_src.reg)      ASCII regions output file
#
#   output options
#
      (clobber = no)              Overwrite existing outputs?
     (ellsigma = 3.0)             Size of output source ellipses (in sigmas)
     (interdir = ${ASCDS_WORK_PATH} -> /tmp) Directory for intermediate outputs
#
#########################################################################
#
#   wtransform parameters
#
#
#   optional input
#
     (bkginput = )                Input background file name
  (bkgerrinput = no)              Use bkginput[2] for background error
#
#   output info
#
  (outputinfix = )                Output filename infix
#
#   output content options
#
    (sigthresh = 1e-06)           Threshold significance for output source pixel list
 (bkgsigthresh = 0.001)           Threshold significance when estimating bkgd only
     (falsesrc = -1.0)            Allowed number of false sources per image
   (sigcalfile = ${ASCDS_CALIB}/wtsimresult.fits -> /soft/ciao/data/wtsimresult.fits) Significance calibration file
#
#   exposure info
#
      (exptime = 0)               Exposure time (if zero, estimate from map itself
      (expfile = )                Exposure map file name (blank=none)
    (expthresh = 0.1)             Minimum relative exposure needed in pixel to analyze it
#
#   background
#
      (bkgtime = 0)               Exposure time for input background file
#
#   iteration info
#
      (maxiter = 2)               Maximum number of source-cleansing iterations
     (iterstop = 0.0001)          Min frac of pix that must be cleansed to continue
#
#   end of wrecon parameters
#
########################################################################
#
#   run log verbosity and content
#
          (log = no)              Make a log file?
      (verbose = 0)               Log verbosity
#
#   mode  
#
         (mode = ql)              




---


Parameters for /home/username/cxcds_param/wavdetect.par


#
#   parameter file for wavdetect
#
#
#   input
#
        infile = s3_0.5-7.0_bin1.img Input file name
#
#   output
#
       outfile = s3_src_2.fits    Output source list file name
     scellfile = s3_scell_2.fits  Output source cell image file name
     imagefile = s3_imgfile_2.fits Output reconstructed image file name
   defnbkgfile = s3_nbgd_2.fits   Output normalized background file name
#
#   scales
#
        scales = 1.0 2.0 4.0 8.0 16.0 wavelet scales (pixels)
#
#   end of wtransform parameters
#
########################################################################
########################################################################
#
#   wrecon parameters
#
#
#   PSF size parameters
#
       psffile = s3_psfmap.fits   Image of the size of the PSF
      (regfile = s3_src_2.reg)    ASCII regions output file
#
#   output options
#
      (clobber = no)              Overwrite existing outputs?
     (ellsigma = 3)               Size of output source ellipses (in sigmas)
     (interdir = ${ASCDS_WORK_PATH} -> /tmp) Directory for intermediate outputs
#
#########################################################################
#
#   wtransform parameters
#
#
#   optional input
#
     (bkginput = )                Input background file name
  (bkgerrinput = no)              Use bkginput[2] for background error
#
#   output info
#
  (outputinfix = )                Output filename infix
#
#   output content options
#
    (sigthresh = 4e-06)           Threshold significance for output source pixel list
 (bkgsigthresh = 0.001)           Threshold significance when estimating bkgd only
     (falsesrc = -1)              Allowed number of false sources per image
   (sigcalfile = ${ASCDS_CALIB}/wtsimresult.fits -> /soft/ciao/data/wtsimresult.fits) Significance calibration file
#
#   exposure info
#
      (exptime = 0)               Exposure time (if zero, estimate from map itself
      (expfile = )                Exposure map file name (blank=none)
    (expthresh = 0.1)             Minimum relative exposure needed in pixel to analyze it
#
#   background
#
      (bkgtime = 0)               Exposure time for input background file
#
#   iteration info
#
      (maxiter = 2)               Maximum number of source-cleansing iterations
     (iterstop = 0.0001)          Min frac of pix that must be cleansed to continue
#
#   end of wrecon parameters
#
########################################################################
#
#   run log verbosity and content
#
          (log = no)              Make a log file?
      (verbose = 0)               Log verbosity
#
#   mode  
#
         (mode = ql)              



---


Parameters for /home/username/cxcds_param/wavdetect.par


#
#   parameter file for wavdetect
#
#
#   input
#
        infile = s3_0.5-7.0_bin1.img Input file name
#
#   output
#
       outfile = s3_expmap_src.fits Output source list file name
     scellfile = s3_expmap_scell.fits Output source cell image file name
     imagefile = s3_expmap_imgfile.fits Output reconstructed image file name
   defnbkgfile = s3_expmap_nbgd.fits Output normalized background file name
#
#   scales
#
        scales = 2.0 4.0          wavelet scales (pixels)
#
#   end of wtransform parameters
#
########################################################################
########################################################################
#
#   wrecon parameters
#
#
#   PSF size parameters
#
       psffile = s3_psfmap.fits   Image of the size of the PSF
      (regfile = s3_expmap_src.reg) ASCII regions output file
#
#   output options
#
      (clobber = no)              Overwrite existing outputs?
     (ellsigma = 3.0)             Size of output source ellipses (in sigmas)
     (interdir = ${ASCDS_WORK_PATH} -> /tmp) Directory for intermediate outputs
#

#########################################################################
#
#   wtransform parameters
#
#
#   optional input
#
     (bkginput = )                Input background file name
  (bkgerrinput = no)              Use bkginput[2] for background error
#
#   output info
#
  (outputinfix = )                Output filename infix
#
#   output content options
#
    (sigthresh = 1e-06)           Threshold significance for output source pixel list
 (bkgsigthresh = 0.001)           Threshold significance when estimating bkgd only
     (falsesrc = -1.0)            Allowed number of false sources per image
   (sigcalfile = ${ASCDS_CALIB}/wtsimresult.fits -> /soft/ciao/data/wtsimresult.fits) Significance calibration file
#
#   exposure info
#
      (exptime = 0)               Exposure time (if zero, estimate from map itself
      (expfile = s3_2.3_bin1.expmap) Exposure map file name (blank=none)
    (expthresh = 0.1)             Minimum relative exposure needed in pixel to analyze it
#
#   background
#
      (bkgtime = 0)               Exposure time for input background file
#
#   iteration info
#
      (maxiter = 2)               Maximum number of source-cleansing iterations
     (iterstop = 0.0001)          Min frac of pix that must be cleansed to continue
#
#   end of wrecon parameters
#
########################################################################
#
#   run log verbosity and content
#
          (log = no)              Make a log file?
      (verbose = 0)               Log verbosity
#
#   mode  
#
         (mode = ql)              



---


Parameters for /home/username/cxcds_param/wavdetect.par


#
#   parameter file for wavdetect
#
#
#   input
#
        infile = P0551690201PNS001IMAGE_8000.FTZ Input file name
#
#   output
#
       outfile = xmm_src.fits Output source list file name
     scellfile = xmm_scell.fits Output source cell image file name
     imagefile = xmm_imgfile.fits Output reconstructed image file name
   defnbkgfile = xmm_nbgd.fits Output normalized background file name
#
#   scales
#
        scales = 2 4 8 16 32      wavelet scales (pixels)
#
#   end of wtransform parameters
#
########################################################################
########################################################################
#
#   wrecon parameters
#
#
#   PSF size parameters
#
       psffile = xmm_psf.fits Image of the size of the PSF
      (regfile = xmm_src.reg) ASCII regions output file
#
#   output options
#
      (clobber = no)              Overwrite existing outputs?
     (ellsigma = 3.0)             Size of output source ellipses (in sigmas)
     (interdir = ${ASCDS_WORK_PATH} -> /tmp) Directory for intermediate outputs
#
#########################################################################
#
#   wtransform parameters
#
#
#   optional input
#
     (bkginput = )                Input background file name
  (bkgerrinput = no)              Use bkginput[2] for background error
#
#   output info
#
  (outputinfix = )                Output filename infix
#
#   output content options
#
    (sigthresh = 1e-06)           Threshold significance for output source pixel list
 (bkgsigthresh = 0.001)           Threshold significance when estimating bkgd only
     (falsesrc = -1.0)            Allowed number of false sources per image
   (sigcalfile = ${ASCDS_CALIB}/wtsimresult.fits -> /soft/ciao/data/wtsimresult.fits) Significance calibration file
#
#   exposure info
#
      (exptime = 0)               Exposure time (if zero, estimate from map itself
      (expfile = P0551690201PNS001EXPMAP8000.FTZ)  Exposure map file name (blank=none)
    (expthresh = 0.1)             Minimum relative exposure needed in pixel to analyze it
#
#   background
#
      (bkgtime = 0)               Exposure time for input background file
#
#   iteration info
#
      (maxiter = 2)               Maximum number of source-cleansing iterations
     (iterstop = 0.0001)          Min frac of pix that must be cleansed to continue
#
#   end of wrecon parameters
#
########################################################################
#
#   run log verbosity and content
#
          (log = no)              Make a log file?
      (verbose = 0)               Log verbosity
#
#   mode  
#
         (mode = ql)              
    
---


Parameters for /home/username/cxcds_param/wavdetect.par


    
---
| | |
| --- | --- |
| 03 Jan 2005 | reviewed for CIAO 3.2: no changes |
| 03 Jun 2005 | updated links for CIAO 3.2 version of Detect manual |
| 19 Dec 2005 | updated for CIAO 3.3: updated files in detect data tarfile |
| 01 Dec 2006 | reviewed for CIAO 3.4: no changes |
| 16 Jan 2008 | updated for CIAO 4.0: added information about new wavdetect algorithm; updated parameter file listings to include falsesrc and sigcalfile, removed kernel; ds9 now automatically looks for the "[SRCLIST]" extension in the region file, so it doesn't have to be specified |
| 16 Apr 2008 | added Source Detection and Cosmic-Ray Afterglows caveat |
| 12 Jan 2009 | updated for CIAO 4.1: wavdetect algorithm was improved in this release; images are inline |
| 27 Jan 2010 | reviewed for CIAO 4.2: no changes |
| 15 Dec 2010 | updated for CIAO 4.3: the wavdetect "interdir" parameter uses ${ASCDS_WORK_PATH} instead of the working directory (".") for writing intermediate files |
| 15 Dec 2011 | reviewed for CIAO 4.4: wavdetect takes an observation-specific PSF map file as input instead of using the Chandra PSF table data or the tool's internal parameterization of the ROSAT PSF; minor updates to screen output and images; use fluximage to create the image and exposure map; added an example of non-Chandra data |
| 25 Jul 2012 | updated getting started example for necessary files |
| 03 Dec 2012 | Review for CIAO 4.5 |
| 28 Jun 2013 | Add a note about mkpsfmap parameters |
| 13 Dec 2013 | Review for CIAO 4.6. Updated to make sure chandra_repro is run due to early mission data being used. |
| 23 Dec 2014 | Review for CIAO 4.7. Minor edits only. |
| 12 Jun 2015 | Added information for mkpsfmap eband and ecf values. |
| 22 Dec 2015 | Added exposure map for XMM dataset and corrected dmhedit command. |
---