CTI Slope (after DOM 200)


CTI slopes were computed for data point after DOM 200 and inside of 1 sigma deviation.
Using only data point in 1 sigma range, we drop high temperature observations, squeegy
observations, and other outliers. A independent variable is date, and a dependent 
variable is CTI.

Note: Unit is cti/day from this month report. 

Front Side Illuminated S Array

	Node 0		Node 1		Node 2		Node 3

CCD4	9.185e-9        1.193e-8        1.287-e8        1.089e-8
CCD6	1.068e-8        1.253e-8        1.251e-8        1.120e-8
CCD8	8.875e-9        9.783e-9        8.477e-9        8.157e-9
CCD9	9.518e-9        1.219e-8        1.167e-8        8.0623-9

AVG	9.924e-9



Front Side Illuminated I Array

	Node 0		Node 1		Node 2		Node 3

CCD0	8.788e-9        1.167e-8        1.136e-8        9.307e-9
CCD1	8.892e-9        1.090e-8        1.053e-8        8.432e-9
CCD2	9.448e-9        1.159e-8        1.171e-8        8.380e-9
CCD3	8.788e-9        1.081e-8        1.069e-8        9.443e-9

AVG	9.237e-9

Back Side Illuminated S Array (not detrended)

	Node 0		Node 1		Node 2		Node 3

CCD5	4.784e-9      5.336e-9        5.082e-9         3.230e-9
AVG:	4.407e-9

CCD7	2.715e-9       4.088e-9        4.131e-9        2.813e-9
AVG	3.498e-9


Focal Plane Temperature
  
       The Mean (max) FPT: -116.67      std dev: 1.28
               mean width:    0.49      std dev: 0.13 


| DOY | Focal Temp | S.D. |
| --- | --- | --- |
| 244.80 | -119.06 | 0.82 |
| 245.96 | -116.32 | 0.51 |
| 248.65 | -115.51 | 0.50 |
| 251.27 | -114.22 | 0.40 |
| 253.88 | -117.28 | 0.34 |
| 256.58 | -115.67 | 0.54 |
| 259.20 | -117.28 | 0.48 |
| 261.88 | -117.61 | 0.37 |
| 264.67 | -118.09 | 0.62 |
| 267.14 | -115.35 | 0.36 |
| 269.81 | -116.96 | 0.42 |
| 272.48 | -116.64 | 0.46 |

We are using 10 period moving averages to show trends of peak temperatures and peak widths. Note, the gaps in the width plot are due to missing/corrupted data.
Bad Pixels
Many of the S1 and S3 "bad pixels" are not bad at all. The bias frames have a lot of real structure in them and since the hot pixel finder is comparing pixels to a global average across the CCD, the extremes of the bias structure are getting picked up. - Catherine Grant
Warm pixels consistently showed a bias level more than 5 sigma away the chip's mean level during this period.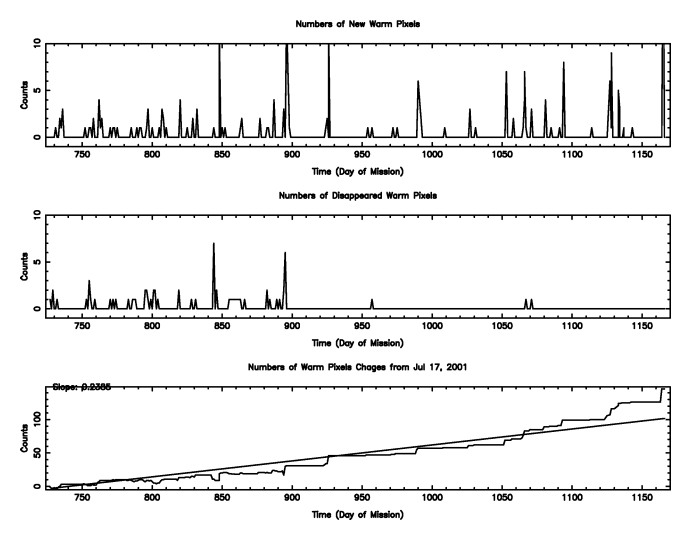 Hot Pixels - About five new hot pixels observed this month.
Previously reported:
We define a hot pixel as a pixel with the count rate 1000 counts above the average
Acis Count Rate Plot This monitors the ACIS count Rate vs. EPHIN count Rate.
No sources are removed. For daily updates see: Ephin/Acis Info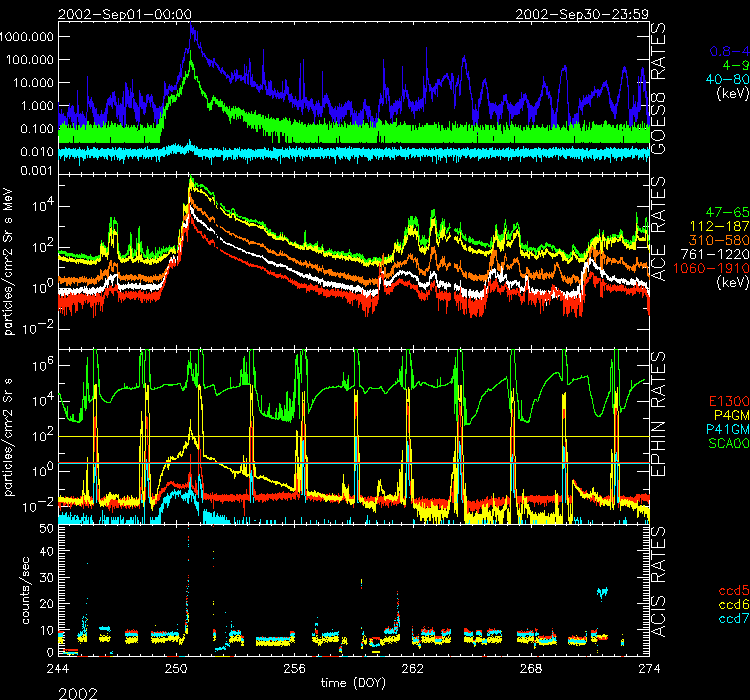 The average EVTSENT, DROP_AMP, DROP_POS, DROP_GRD, THR_PIX, and maximum BERR_SUM are plotted for each observation. CTI observations are plotted separately from regular science observations. For Clarity, only S3 is shown.
Notes:
The half-life decay of the CTI source is clearly evidenced in the steady decline of EVTSENT.
The slope of the averaged dropped events and THR_PIX changes around DOM 380. This may be a seasonal effect due to solar activity and changes in background rates. A full explanation and fit method are being determined.
CTI Obs

Sci Obs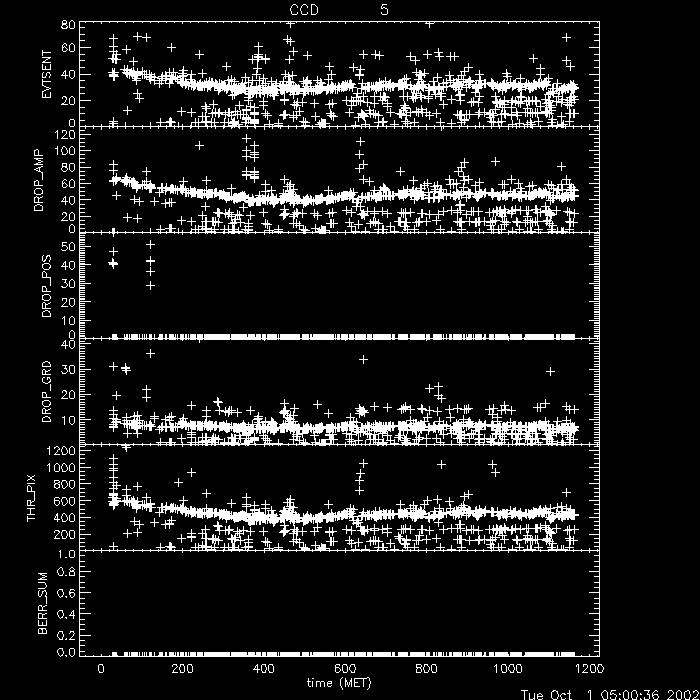 CTI Obs

Sci Obs