CTI Slope (after DOM 200)


CTI slopes were computed for data point after DOM 200 and inside of 1 sigma deviation.
Using only data point in 1 sigma range, we drop high temperature observations, squeegy
observations, and other outliers. A independent variable is date, and a dependent 
variable is CTI.

Note: Unit is cti/day from this month report. 

Front Side Illuminated S Array

	Node 0		Node 1		Node 2		Node 3

CCD4	9.887e-9        1.267e-8        1.327-e8        1.132e-8
CCD6	9.869e-9        1.095e-8        1.117e-8        1.045e-8
CCD8	8.560e-9        9.648e-9        8.474e-9        8.295e-9
CCD9	9.435e-9        1.136e-8        1.096e-8        9.002e-9

AVG	9.279e-9



Front Side Illuminated I Array

	Node 0		Node 1		Node 2		Node 3

CCD0	8.063e-9        1.021e-8        1.037e-8        8.865e-9
CCD1	8.754e-9        1.025e-8        9.787e-9        7.536e-9
CCD2	8.767e-9        1.067e-8        1.014e-8        8.085e-9
CCD3	8.354e-9        9.998e-9        9.797e-9        9.956e-9

AVG	8.483e-9

Back Side Illuminated S Array (not detrended)

	Node 0		Node 1		Node 2		Node 3

CCD5	3.660e-9       3.771e-9        3.860e-9        2.452e-9
AVG:	3.265e-9

CCD7	2.244e-9       3.045e-9        3.278e-9        2.103e-9
AVG	2.709e-9


Focal Plane Temperature
  
       The Mean (max) FPT: -117.76      std dev: 1.30
               mean width:    0.44      std dev: 0.33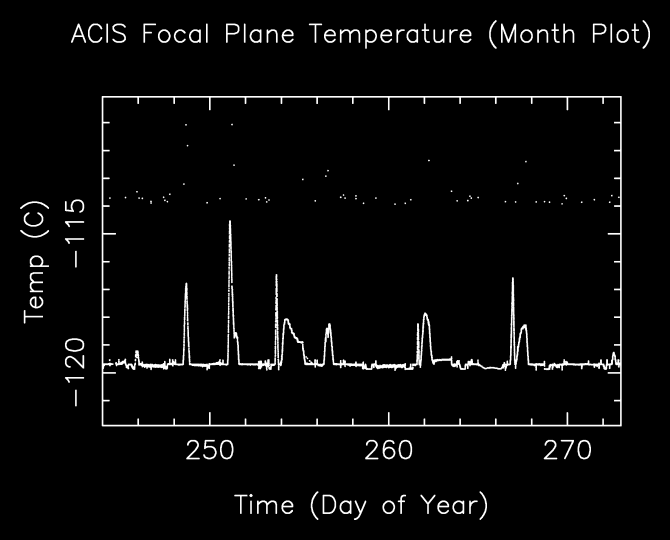 We are using 10 period moving averages to show trends of peak temperatures and peak widths. Note, the gaps in the width plot are due to missing/corrupted data.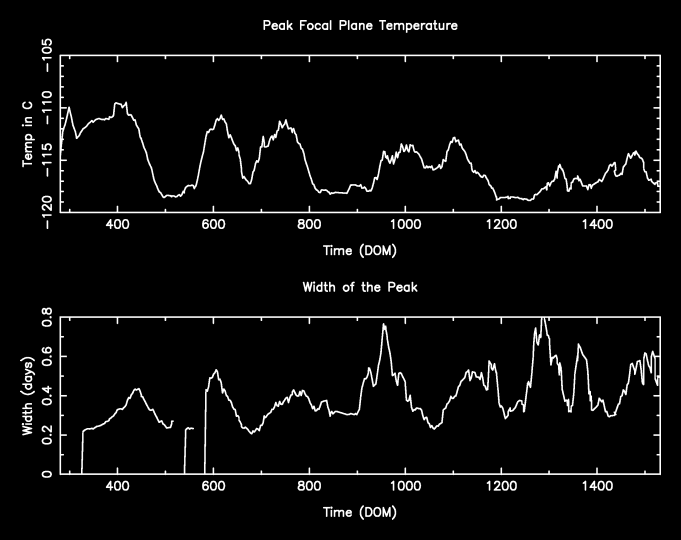 Bad Pixels


The plots below were generated with a new warm pixel finding script. Please see Acis Bad Pixel Page for details.

Front Side CCDs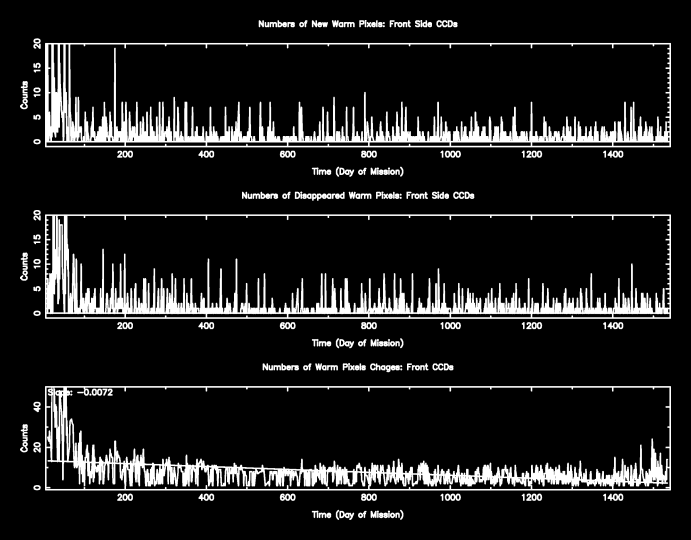 Back Side CCD (CCD5)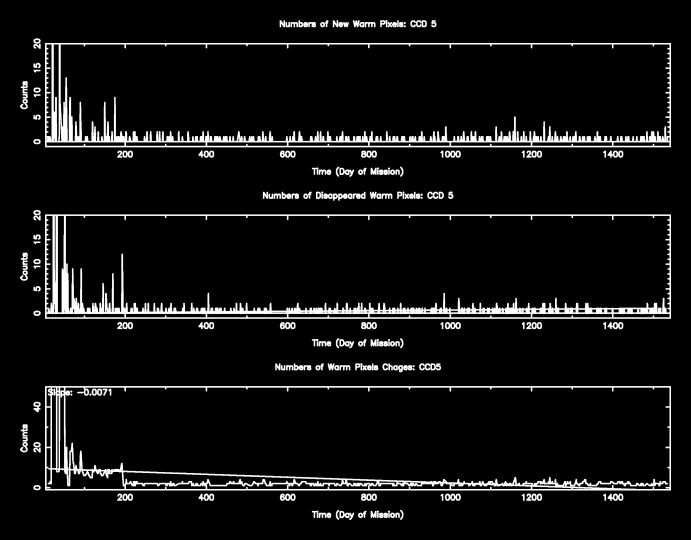 Acis Count Rate Plot This monitors the ACIS count Rate vs. EPHIN count Rate.
No sources are removed. For daily updates see: Ephin/Acis Info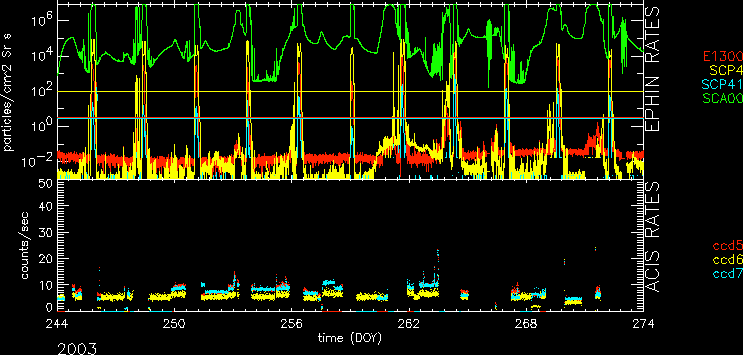 ---
HRC
TOP
---
Gratings
Focus


We plot the width of the zero order streak of ACIS/HETG observations and the width of the zero order image for HRC/LETG observations of point sources. No significant defocusing trend is seen at this time. See Gratings Focus pages.