Retrieve ChaRT Rays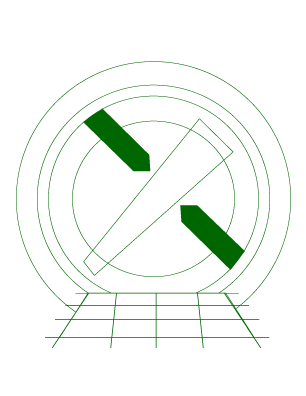 CIAO 4.9 Science Threads
---
Synopsis:
After running ChaRT, users will be sent an email providing the URL on the saotrace FTP server where they can download a compressed tarfile containing the results of the simulation. This thread illustrates how to retrieve, unpack, and view the output data.
The inputs to ChaRT are shown below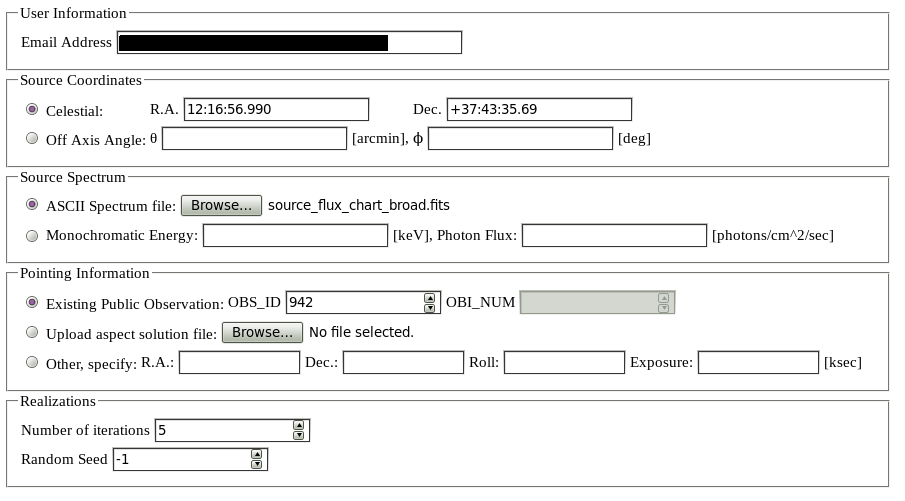 Coordinate : Celestial : RA = 12:16:56.990
                         Dec = +37:43:35.69
Spectrum:  Spectrum file: source_flux_chart.dat
Pointing:                OBS_ID = 942
Number of Iterations:    5
Random Seed :           -1

Last Update: 11 May 2015 - Updated for ChaRT v2.
---
---
---
The output from ChaRT cannot be used directly in your analysis. It first needs to be projected onto the detector and have the detector response applied to it to create a simulated event file. The Using MARX to Create an Event File thread describes how to do this.
---
| | |
| --- | --- |
| 27 Jun 2003 | original version, updated for CIAO 3.0: layout |
| 13 Jul 2004 | created Columns and Header Keywords section |
| 16 Feb 2005 | reviewed for CIAO 3.3: no changes |
| 18 Aug 2008 | updated for CIAO 4.0: minor changes to screen output |
| 17 Feb 2010 | reviewed for CIAO 4.2: no changes |
| 15 Dec 2010 | reviewed for CIAO 4.3: no changes |
| 24 Sep 2012 | thread renamed |
| 26 Oct 2012 | screen output text updated for the Linux version of the SAOTrace backend, after transition from Solaris version of SAOTrace/ChaRT. |
| 11 May 2015 | Updated for ChaRT v2. |
---