Basic Lightcurves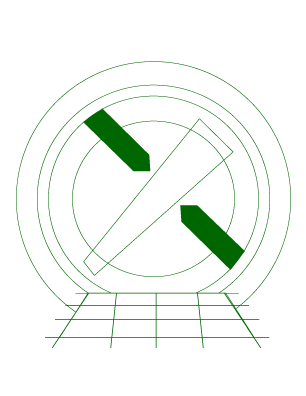 CIAO 4.9 Science Threads
---
Synopsis:
A simple lightcurve from a point source in ACIS data can be used to get an idea of the variability of the source or to look for background flares that should be filtered out. The process for HRC is similar, but requires accounting for the Dead Time Factor (DTF). The CIAO tool dmextract is used in this thread as it accurately applies good time interval (GTI) information when creating lightcurves.
Purpose:
To create lightcurves for use in a variety of analyses.
Related Links:
Last Update: 17 Jul 2017 - Updated figures to plot delta-T. Added additional links to dead-time thread. General cleanup.
---
---
---


Parameters for /home/username/cxcds_param/dmextract.par



#--------------------------------------------------------------------
#
# DMEXTRACT -- extract columns or counts from an event list
#
#--------------------------------------------------------------------
        infile = acisf00953N004_evt2.fits[ccd_id=3,sky=region(src2.reg)][bin time=::2000] Input event file 
       outfile = src2_sub_lc.fits Enter output file name
          (bkg = acisf00953N004_evt2.fits[ccd_id=3,sky=region(bkg.reg)]) Background
				  region file or fixed background (counts/pixel/s) subtraction
        (error = gaussian)        Method for error determination(poisson|gaussian|<variance file>)
     (bkgerror = gaussian)        Method for background error determination(poisson|gaussian|<variance file>)
      (bkgnorm = 1.0)             Background normalization
          (exp = )                Exposure map image file
       (bkgexp = )                Background exposure map image file
      (sys_err = 0)               Fixed systematic error value for SYS_ERR keyword
          (opt = ltc1)            Output file type: pha1 
     (defaults = ${ASCDS_CALIB}/cxo.mdb -> /soft/ciao/data/cxo.mdb) Instrument defaults file
         (wmap = )                WMAP filter/binning (e.g. det=8 or default)
      (clobber = no)              OK to overwrite existing output file(s)?
      (verbose = 0)               Verbosity level
         (mode = ql)              
   
---


Parameters for /home/username/cxcds_param/dmextract.par



#--------------------------------------------------------------------
#
# DMEXTRACT -- extract columns or counts from an event list
#
#--------------------------------------------------------------------
        infile = hrcf00461N005_evt2.fits[sky=region(hrc_src.reg)][bin time=64938947.367:64959159.548:1000] Input event file 
       outfile = hrc_lc.fits      Enter output file name
          (bkg = )                Background region file or fixed background (counts/pixel/s) subtraction
        (error = gaussian)        Method for error determination(poisson|gaussian|<variance file>)
     (bkgerror = gaussian)        Method for background error determination(poisson|gaussian|<variance file>)
      (bkgnorm = 1.0)             Background normalization
          (exp = hrcf00461_001N004_dtf1.fits) Exposure map image file
       (bkgexp = )                Background exposure map image file
      (sys_err = 0)               Fixed systematic error value for SYS_ERR keyword
          (opt = ltc1)            Output file type 
     (defaults = ${ASCDS_CALIB}/cxo.mdb -> /soft/ciao/data/cxo.mdb) Instrument defaults file
         (wmap = )                WMAP filter/binning (e.g. det=8 or default)
      (clobber = no)              OK to overwrite existing output file(s)?
      (verbose = 0)               Verbosity level
         (mode = ql)              
   
---
| | |
| --- | --- |
| 03 Jan 2005 | reviewed for CIAO 3.2: no changes |
| 21 Dec 2005 | updated for CIAO 3.3: default value of dmextract error and bkgerror parameters is "gaussian"; dmextract can now accept a DTF file in the exp parameter, which simplifies the process of creating HRC Lightcurves |
| 01 Dec 2006 | updated for CIAO 3.4: CHIPS version |
| 23 Jan 2008 | updated for CIAO 4.0: updated ChIPS syntax; lightcurve tool no longer in CIAO; removed "Tool: dmextract vs. lightcurve" section; filenames, screen output, and region files updated for reprocessed data (version N003 event file for 953) |
| 25 Jun 2008 | updated image display to place figures inline with text |
| 12 Jan 2009 | updated for CIAO 4.1: provided both Python and S-lang syntax for ChIPS |
| 05 Feb 2010 | updated for CIAO 4.2: ChIPS version; ObsID 461 file version and corresponding change to screen output |
| 13 Jan 2011 | reviewed for CIAO 4.3: no changes |
| 11 Jan 2012 | reviewed for CIAO 4.4: minor change in HRC lightcurve due to bug fix in dmextract (applying DTF file) |
| 03 Dec 2012 | Review for CIAO 4.5 ; added see also to glvary & dither_region thread. |
| 03 Dec 2013 | Review for CIAO 4.6. Added note about early data. Minor edits. |
| 18 Dec 2014 | Reviewed for CIAO 4.7; no changes. |
| 17 Jul 2017 | Updated figures to plot delta-T. Added additional links to dead-time thread. General cleanup. |
---