Match the Binning of an Image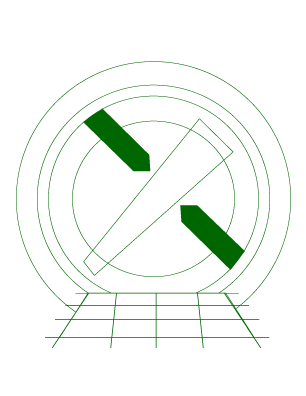 CIAO 4.9 Science Threads
---
Synopsis:
There are times that you would like to create an image so that it matches an already-existing image. One example would be creating a full-resolution exposure map of a single detector chip.
Purpose:
To use the get_sky_limits script to find the binning specification of an image for input into other CIAO tools, e.g. dmcopy or mkexpmap.
Related Links:
Last Update: 22 Dec 2013 - Review for CIAO 4.7; added link to apply_fov_limits help file.
---
---
---


Parameters for /home/username/cxcds_param/dmcoords.par


        infile = img.fits         Input dataset/block specification
      asolfile = none             Input aspect solution file
#
# Position of photon in different coord systems
#
       chip_id = 6                Chip ID number
         chipx = 995.6866592050034 Chip X [pixel]
         chipy = -107.7026386592746 Chip Y [pixel]
         tdetx = 0                TDETX [pixel]
         tdety = 0                TDETY [pixel]
          detx = 3827.861836131362 FPC X [pixel]
          dety = 4613.262553706417 FPC Y [pixel]
             x = 3595.5           Sky X [pixel]
             y = 3799.5           Sky Y [pixel]
      logicalx = 0.5              X coordinate in binned image [pixel]
      logicaly = 0.5              Y coordinate in binned image [pixel]
            ra = 18:33:49.497     RA [deg or hh:mm:ss]
           dec = -10:37:47.46     Dec [deg or dd:mm:ss]
         theta = 4.775819411656162 Off axis angle [arcmin]
           phi = 117.4675919434541 Azimuthal angle [deg]
         order = 0                Grating order
        energy = 1                Energy [keV]
    wavelength = 0                Wavelength [A]
         ra_zo = 18:33:49.497     RA of zero order
        dec_zo = -10:37:47.46     Dec of zero order
     (asolfile = none)		  Input aspect solution file
       (option = )                Conversion option
#
# Override setup for observation
# All parameters here are strings so that they can
# be set blank, in which case the data file value is used
#
       (celfmt = hms)             RA and Dec format [deg or hms] (xx.xx or xx:xx:xx.x)
     (detector = )                Detector (ACIS or HRC-I or HRC-S)
      (grating = )                Grating
        (fpsys = )                FP convention
          (sim = )                SIM position (eg 0.0 0.0 -190.6)
     (displace = )                STF displacement (X,Y,Z,AX,AY,AZ)
       (ra_nom = )                Nominal pointing RA [deg or hh:mm:ss]
      (dec_nom = )                Nominal dec [deg or dd:mm:ss]
     (roll_nom = )                Nominal roll [deg]
       (ra_asp = )                Instantaneous pointing RA [deg]
      (dec_asp = )                Instantaneous pointing Dec [deg]
     (roll_asp = )                Instantaneous Aspect roll [deg]
#
      (geompar = geom)            Parameter file for Pixlib Geometry files
      (verbose = 0)               Debug Level
         (mode = ql)              
    
---


Parameters for /home/username/cxcds_param/dmcoords.par


        infile = img.fits         Input dataset/block specification
      asolfile = none             Input aspect solution file
#
# Position of photon in different coord systems
#
       chip_id = 8                Chip ID number
         chipx = 424.3637197084861 Chip X [pixel]
         chipy = 1155.542356460029 Chip Y [pixel]
         tdetx = 0                TDETX [pixel]
         tdety = 0                TDETY [pixel]
          detx = 5339.917834531454 FPC X [pixel]
          dety = 3351.096693883851 FPC Y [pixel]
             x = 4771.5           Sky X [pixel]
             y = 5379.5           Sky Y [pixel]
      logicalx = 294.5            X coordinate in binned image [pixel]
      logicaly = 395.5            Y coordinate in binned image [pixel]
            ra = 18:33:10.266     RA [deg or hh:mm:ss]
           dec = -10:24:50.08     Dec [deg or dd:mm:ss]
         theta = 11.88772992568937 Off axis angle [arcmin]
           phi = 329.0581834129313 Azimuthal angle [deg]
         order = 0                Grating order
        energy = 1                Energy [keV]
    wavelength = 0                Wavelength [A]
         ra_zo = 18:33:10.266     RA of zero order
        dec_zo = -10:24:50.08     Dec of zero order
     (asolfile = )		  Input aspect solution file
       (option = )                Conversion option
#
# Override setup for observation
# All parameters here are strings so that they can
# be set blank, in which case the data file value is used
#
       (celfmt = hms)             RA and Dec format [deg or hms] (xx.xx or xx:xx:xx.x)
     (detector = )                Detector (ACIS or HRC-I or HRC-S)
      (grating = )                Grating
        (fpsys = )                FP convention
          (sim = )                SIM position (eg 0.0 0.0 -190.6)
     (displace = )                STF displacement (X,Y,Z,AX,AY,AZ)
       (ra_nom = )                Nominal pointing RA [deg or hh:mm:ss]
      (dec_nom = )                Nominal dec [deg or dd:mm:ss]
     (roll_nom = )                Nominal roll [deg]
       (ra_asp = )                Instantaneous pointing RA [deg]
      (dec_asp = )                Instantaneous pointing Dec [deg]
     (roll_asp = )                Instantaneous Aspect roll [deg]
#
      (geompar = geom)            Parameter file for Pixlib Geometry files
      (verbose = 0)               Debug Level
         (mode = ql)              
    
---
| | |
| --- | --- |
| 04 Jan 2005 | updated for CIAO 3.2: minor change to dmcoords parameter file |
| 16 Dec 2005 | reviewed for CIAO 3.3: no changes |
| 01 Dec 2006 | reviewed for CIAO 3.4: no changes |
| 16 Jan 2008 | updated for CIAO 4.0: get_sky_limits v1.9 (internal code updates needed for software changes; the case of the axis names, as reported on-screen and saved to the dmfilter parameter, may change); filename and screen output updated for reprocessed data (version N003 event file) |
| 24 Oct 2008 | get_sky_limits v1.13 (fixes a rare segmentation fault and adds the pixel size in sky coordinates to the screen output.) |
| 04 Feb 2009 | updated for CIAO 4.1: images are inline |
| 20 Apr 2009 | updated for CIAO 4.1.2: the asolfile parameter in dmcoords has changed from hidden to automatic (updated parameter file listing) |
| 06 May 2009 | check the version of the CIAO scripts package instead of the individual script |
| 05 Feb 2010 | reviewed for CIAO 4.2: no changes |
| 13 Jan 2011 | reviewed for CIAO 4.3: no changes |
| 04 Apr 2011 | updated for 04 Apr scripts package release: get_sky_limits script prints the version at verbose > 0. |
| 20 Jul 2011 | required software updates are listed in Synopsis |
| 09 Jan 2012 | reviewed for CIAO 4.4: no changes |
| 03 Dec 2012 | Review for CIAO 4.5; file version update, fix time DSS (extra new-line) |
| 03 Dec 2013 | Review for CIAO 4.6; no changes. |
| 22 Dec 2013 | Review for CIAO 4.7; added link to apply_fov_limits help file. |
---