Correcting a Misplaced Zero-order Source Position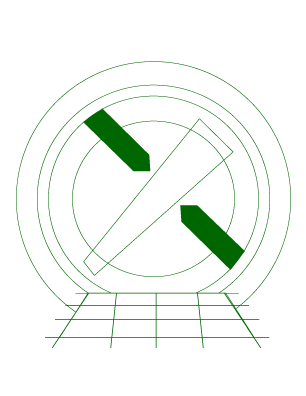 CIAO 4.9 Science Threads
---
Synopsis:
When tgdetect is run as a stand-alone tool with the zero order filter position set to the default value as in the "Obtain Grating Spectra" threads, the tool uses hard-wired numbers to locate the center of the box for searching zero-order sources; see Get Started for the values. If the source is outside of the default search area, the tool will not locate it, regardless of how prominent it is.
The tgdetect2 tool will automatically use the target location, RA_TARG,DEC_TARG when it runs tgdetect.
Purpose:
To run tgdetect with a specific zero order filter position to identify the correct zero-order source position.
Related Links:
Last Update: 23 Dec 2014 - Review for CIAO 4.7; updated tgdetect default parameters (no redirects).
---
---
---
This thread is now complete. You can continue with the grating analysis from the "Get region mask (tg_create_mask)" step of the HETG/ACIS-S, LETG/ACIS-S, LETG/HRC-S, or LETG/HRC-I grating spectra thread.
---


Parameters for /home/username/cxcds_param/tgdetect.par


##
## TGDETECT -- Create filter; run celldetect; narrow down detected
##             'zero order' source list; set source id's; match 
##             sources to previous OBI source list.
##
## Note: if either "infile" or "OBI_srclist_file" are @lists, only
## the first item on the list is read in;  this tool only works on
## one set of input files;  if more than one file is listed, 
## everything but the first are ignored.
##
        infile = acisf01703_000N004_evt1.fits   Input L1 event file (root_evt1.fits or .lis)
OBI_srclist_file = NONE             Input source position(s) file from previous OBI or NONE
       outfile = acis_src1a.fits  Output source position(s) file name (root_src1a.fits)
#
#   output file naming
#
     (temproot = )                Path and root file name to be given to temporary files
     (keeptemp = no)              Keep temporary files?
     (keepexit = no)              Keep exit status file?
#
#
#
     (zo_pos_x = default)         Center GZO filter sky X position (default=pixel(ra_nom))
     (zo_pos_y = default)         Center GZO filter sky Y position (default=pixel(dec_nom))
 (zo_sz_filt_x = default)         Size of GZO filter in X pixels (ACIS=400; HRC=1800)
 (zo_sz_filt_y = default)         Size of GZO filter in Y pixels (ACIS=400; HRC=1800)
   (snr_thresh = 40)              SNR threshold to select the detected sources
# 
#   celldetect parameters
#
       (expstk = none)            list of exposure map files
       (thresh =  3)              celldetect source threshold
     (ellsigma = 3.0)             Size of output source ellipses (in sigmas)
     (expratio = 0)               cutoff ratio for source cell exposure variation
    (findpeaks = yes)             find local peaks for celldetect
(celldetect_log =  no)            make a celldetect log file?
     (psftable = /soft/ciao/data/psfsize_20000830.fits) table of PSF size data, for celldetect
    (fixedcell = 15)              celldetect fixed cell size to use
(fixedcell_cc_mode = 15)              celldetect fixed cell size to use for CC mode ACIS data
      (bkgfile = none)            background file, for celldetect
     (bkgvalue =  0)              background count/pixel, for celldetect
  (bkgerrvalue =  0)              background error, for celldetect
        (eband =  1.4967)         energy band, for celldetect
      (eenergy =  0.8)            encircled energy of PSF, for celldetect
      (snrfile = none)            celldetect snr output file (for convolution only)
     (convolve =  no)             use convolutions for celldetect
      (xoffset = INDEF)           celldetect offset of x axis from optical axis
      (yoffset = INDEF)           celldetect offset of y axis from optical axis
     (cellfile = none)            output cell size image file
     (centroid = yes)             compute source centroids in celldetection?
#
#   tgidselectsrc parameters
#
(snr_ratio_limit =  1)            Value of SNR ratio to use as lower limit
     (setsrcid =  yes)            Set src ids in output file?
#
#   tgmatchsrc parameters
#
(max_separation =  3)             Maximum allowed separation (arcsec) for sources to match
#
#
      (clobber = yes)             OK to overwrite existing output file(s)?
      (verbose = 0)               Verbosity level (0 = no display)
         (mode = ql)
    
---


Parameters for /home/username/cxcds_param/tgdetect.par


##
## TGDETECT -- Create filter; run celldetect; narrow down detected
##             'zero order' source list; set source id's; match 
##             sources to previous OBI source list.
##
## Note: if either "infile" or "OBI_srclist_file" are @lists, only
## the first item on the list is read in;  this tool only works on
## one set of input files;  if more than one file is listed, 
## everything but the first are ignored.
##
        infile = acisf01703_000N004_evt1.fits   Input L1 event file (root_evt1.fits or .lis)
OBI_srclist_file = NONE             Input source position(s) file from previous OBI or NONE
       outfile = acis_target_src1a.fits Output source position(s) file name (root_src1a.fits)
#
#   output file naming
#
     (temproot = )                Path and root file name to be given to temporary files
     (keeptemp = no)              Keep temporary files?
     (keepexit = no)              Keep exit status file?
#
#
#
     (zo_pos_x = 4121.45)         Center GZO filter sky X position (default=pixel(ra_nom))
     (zo_pos_y = 3876.57)         Center GZO filter sky Y position (default=pixel(dec_nom))
 (zo_sz_filt_x = default)         Size of GZO filter in X pixels (ACIS=400; HRC=1800)
 (zo_sz_filt_y = default)         Size of GZO filter in Y pixels (ACIS=400; HRC=1800)
   (snr_thresh = 40)              SNR threshold to select the detected sources
# 
#   celldetect parameters
#
       (expstk = none)            list of exposure map files
       (thresh =  3) celldetect source threshold
     (ellsigma = 3.0)             Size of output source ellipses (in sigmas)
     (expratio = 0)               cutoff ratio for source cell exposure variation
    (findpeaks = yes)             find local peaks for celldetect
(celldetect_log =  no) make a celldetect log file?
     (psftable = /soft/ciao/data/psfsize_20000830.fits) table of PSF size data, for celldetect
    (fixedcell = 15)              celldetect fixed cell size to use
(fixedcell_cc_mode = 15)          celldetect fixed cell size to use for CC mode ACIS data
      (bkgfile = none)            background file, for celldetect
     (bkgvalue = 0)              background count/pixel, for celldetect
  (bkgerrvalue = 0)              background error, for celldetect
        (eband = 1.4967)         energy band, for celldetect
      (eenergy = 0.8)            encircled energy of PSF, for celldetect
      (snrfile = none)            celldetect snr output file (for convolution only)
     (convolve = no)             use convolutions for celldetect
      (xoffset = INDEF)           celldetect offset of x axis from optical axis
      (yoffset = INDEF)           celldetect offset of y axis from optical axis
     (cellfile = none)            output cell size image file
     (centroid = yes)             compute source centroids in celldetection?
#
#   tgidselectsrc parameters
#
(snr_ratio_limit = 1)             Value of SNR ratio to use as lower limit
     (setsrcid = yes)             Set src ids in output file?
#
#   tgmatchsrc parameters
#
(max_separation = 3)              Maximum allowed separation (arcsec) for sources to match
#
#
      (clobber = yes)             OK to overwrite existing output file(s)?
      (verbose = 0)               Verbosity level (0 = no display)
         (mode = ql)
    
---
| | |
| --- | --- |
| 16 Dec 2004 | updated for CIAO 3.2: new parameters for temporary and diagnostic files; include dmcoords asolfile parameter |
| 05 Dec 2005 | updated for CIAO 3.3: parameter file change (kernel parameter removed from tgdetect) |
| 29 Mar 2006 | renamed thread from "Correct Zero-order Source Position" |
| 01 Dec 2006 | updated for CIAO 3.4: change to wording of tgdetect/dmcopy warning |
| 11 Jan 2008 | updated for CIAO 4.0: ds9 now automatically looks for the "[SRCLIST]" extension in the region file, so it doesn't have to be specified; filenames and screen output updated for reprocessed data (version N004 files) |
| 12 Feb 2009 | updated for CIAO 4.1: acis_src1a.fits has four source regions; images are inline |
| 16 Jun 2009 | added About the Chandra Grating Data Archive and Catalog section |
| 22 Dec 2010 | reviewed for CIAO 4.2: no changes |
| 12 Jan 2011 | reviewed for CIAO 4.3: no changes |
| 06 Jan 2012 | reviewed for CIAO 4.4: no changes |
| 03 Dec 2012 | Review for CIAO 4.5; file version name changes |
| 11 Dec 2013 | Review for CIAO 4.6 |
| 23 Dec 2014 | Review for CIAO 4.7; updated tgdetect default parameters (no redirects). |
---