Extract Spectrum and Response Files for Multiple Sources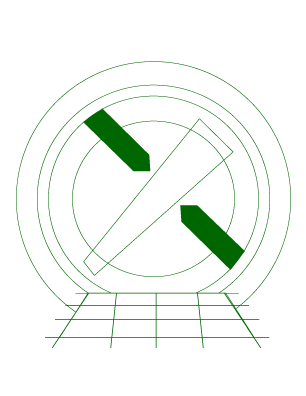 CIAO 4.9 Science Threads
---
Synopsis:
A set of sources may be treated as multiple point sources that are coadded together for spectral analysis or as a single, multi-source region. The appropriate Response Matrix Files (RMFs) and Ancillary Response Files (ARFs) are created for each spectrum. In the latter case, the responses are weighted because the RMF and ARF vary with detector location: the RMF is defined as constant across FEF tiles, whose size depends on both the position on and focal-plane temperature of the ACIS chip, while the ARF varies with position in the detector plane.
Purpose:
Create a spectrum for a set of sources in two ways:
The specextract script automates the analysis for each case.

Parts of this thread are under review. Specifically Option A, the co-added spectrum created with specextract combine=yes needs additional review.
Related Links:
Last Update: 23 Dec 2014 - Review for CIAO 4.7.
---
---
---


Parameters for /home/username/cxcds_param/specextract.par


        infile = @../multi.lis    Source event file(s)
       outroot = 3c294            Output directory path + root name for output files
      (bkgfile = )                Background event file(s)
          (asp = )                Source aspect solution or histogram file(s)
      (pbkfile = )                Parameter block file (input to mkwarf)
      (mskfile = )                Maskfile (input to mkwarf)
      (rmffile = CALDB)           rmffile input for CALDB
   (badpixfile = )                Bad pixel file for the observation
       (dafile = CALDB)           Dead area file (input to mkwarf)
      (bkgresp = yes)             Create background ARF and RMF?
       (weight = no)              Should response files be weighted?
   (correctpsf = yes)             Apply point source aperture correction to ARF?
      (combine = yes)             Combine ungrouped output spectra and responses?
    (grouptype = NUM_CTS)         Spectrum grouping type (same as grouptype in dmgroup)
      (binspec = 15)              Spectrum grouping specification (NONE,1:1024:10,etc)
(bkg_grouptype = NONE)            Background spectrum grouping type (NONE, BIN, SNR, NUM_BINS, NUM_CTS, or ADAPTIVE)
  (bkg_binspec = )                Background spectrum grouping specification (NONE,10,etc)
        (ptype = PI)              PI or PHA
       (energy = 0.3:11.0:0.01)   Energy grid
      (channel = 1:1024:1)        RMF binning attributes
  (energy_wmap = 300:2000)        Energy range for (dmextract) WMAP input to mkacisrmf
      (binwmap = tdet=8)          Binning factor for (dmextract) WMAP input to mkacisrmf
   (binarfwmap = 1)               Binning factor for (sky2tdet) WMAP input to mkwarf
      (clobber = no)              OK to overwrite existing output file?
      (verbose = 1)               Debug Level(0-5)
         (mode = ql)
    
---


Parameters for /home/username/cxcds_param/specextract.par


        infile = repro/acisf03207_repro_evt2.fits[sky=region(src.fits)] Source event file(s)
       outroot = field/combined   Output directory path + root name for output files
      (bkgfile = )                Background event file(s)
          (asp = )                Source aspect solution or histogram file(s)
      (pbkfile = )                Parameter block file (input to mkwarf)
      (mskfile = )                Maskfile (input to mkwarf)
      (rmffile = CALDB)           rmffile input for CALDB
   (badpixfile = )                Bad pixel file for the observation
       (dafile = CALDB)           Dead area file (input to mkwarf)
      (bkgresp = yes)             Create background ARF and RMF?
       (weight = yes)             Should response files be weighted?
   (correctpsf = no)              Apply point source aperture correction to ARF?
      (combine = no)              Combine ungrouped output spectra and responses?
    (grouptype = NUM_CTS)         Spectrum grouping type (same as grouptype in dmgroup)
      (binspec = 15)              Spectrum grouping specification (NONE,1:1024:10,etc)
(bkg_grouptype = NONE)            Background spectrum grouping type (NONE, BIN, SNR, NUM_BINS, NUM_CTS, or ADAPTIVE)
  (bkg_binspec = )                Background spectrum grouping specification (NONE,10,etc)
        (ptype = PI)              PI or PHA
       (energy = 0.3:11.0:0.01)   Energy grid
      (channel = 1:1024:1)        RMF binning attributes
  (energy_wmap = 300:2000)        Energy range for (dmextract) WMAP input to mkacisrmf
      (binwmap = tdet=8)          Binning factor for (dmextract) WMAP input to mkacisrmf
   (binarfwmap = 1)               Binning factor for (sky2tdet) WMAP input to mkwarf
      (clobber = no)              OK to overwrite existing output file?
      (verbose = 1)               Debug Level(0-5)
         (mode = ql)
    
---
| | |
| --- | --- |
| 04 Jan 2005 | updated for CIAO 3.2: added information about mkacisrmf, see Creating the RMF: mkrmf vs mkacisrmf section (deprecated) |
| 20 Dec 2005 | updated for CIAO 3.3: default value of dmextract error and bkgerror parameters is "gaussian"; updated screen output accordingly |
| 01 Feb 2006 | added information about specextract thread |
| 01 Dec 2006 | updated for CIAO 3.4: CIAO and ChIPS versions; set mkrmf verbosity > 0 for screen output; parameter file updates for mkwarf |
| 02 Feb 2007 | updated for CALDB 3.3.0.1 patch |
| 06 Mar 2007 | added ACIS dead area correction section and example of setting the pbkfile and dafile parameters |
| 24 Jan 2008 | updated for CIAO 4.0: rewritten with ObsID 3207; turn off the ACIS dead area correction in the mkwarf step (application of the dead area correction is on by default); show_wgt.sl not included in this release; links point to Sherpa Beta website ; removed outdated calibration updates |
| 04 Feb 2009 | updated for CIAO 4.1: "ARDLIB warning ... Assuming the first "interesting" extension." no longer printed; updated path for CALDB 4; input data must have a CTI_APP keyword |
| 19 Feb 2009 | added a section on Fitting |
| 12 Jan 2010 | updated for CIAO 4.2: calibration update - the ACIS QE contamination model has been upgraded to vN0005. |
| 09 Mar 2010 | The ACIS detector is calibrated over the range 0.224004 - 12 keV; choosing values outside this range may result in errors from mkwarf. |
| 15 Dec 2010 | updated for CIAO 4.3: new ACIS contamination calibration file |
| 01 Mar 2011 | CALDB 4.4.2 release: fix to the header of the ACIS QE contamination file. Prior to this release, CIAO would fail when trying to look up the contamination model correction for chips ACIS-8 (S4) and ACIS-9 (S5). |
| 26 Apr 2011 | install version 2 of the tools package for CIAO 4.3 to fix the mkrmf bug. |
| 20 Jul 2011 | required software updates are listed in Synopsis |
| 05 Mar 2012 | revised for CIAO 4.4 (previous title was "Weighting ARFs and RMFs: multiple sources"): thread rewritten to show two cases - stack of sources and single, multi-source region; analysis is done with the specextract script. |
| 03 Dec 2012 | Review for CIAO 4.5; updated file versions |
| 08 Aug 2013 | Updated for the contributed scripts 4.5.4 release: the "ancillary" files - e.g. aspect solution and bad-pixel files - can now be picked up from information in the event file (in many cases). |
| 23 Dec 2014 | Review for CIAO 4.7. |
---